Cadell Soldier Settlement
Cadell History | Soldier Settlement | Cadell Floods | Fruit Industry | Irrigation | CWA
New hope in Soldier Settlement Scheme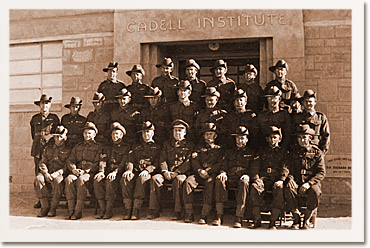 At the conclusion of World War 1, the government of Australia was faced with the problem of repatriating thousands of men into the civil life of the community. Realizing that South Australia was essentially a state that depended on production for its financial well being, the government suggested that it would be a profitable and congenial occupation if returned men were established as primary producers.
The River Murray offered excellent opportunities for the development of the fruit growing industry and Cadell was subsequently surveyed in 1911, and in 1916 the area became the 'Cadell Irrigation Area'. In 1917 gangs of men began construction of the irrigation channels for the settlement. Cadell became the first post-war dried fruit settlement in the Upper Murray with an irrigated area of about 1,300 acres and 1,400 acres of dry land.
In September 1919, the first blocks were allocated to 77 ex-service men. Blocks ranged from 10 to 40 acres, some partly planted. The steam driven pumping plant was installed in 1919. The pumping station irrigated the blocks through a series of concrete channels. A few settlers cleared their holdings while others were busy planting. A large chimney stack for the pumping station was erected. It was 60 feet high, contained 27000 bricks and was built in 18 days by 3 men.
Most of the settlers were men without horticultural experience and the advice and help given by the government experts was well sought after. Most of the men slept in tents or humpies, all too busy with their holdings to give much time to the domestic side of life.
Progress was going ahead. Vines, peaches, apricots and oranges were planted and were expected to be bearing in three to four years. School sites were surveyed, and the first packing shed was built.
Wives, mothers and sisters now began to arrive in the district. The first woman to take up permanent residency in Cadell was Mrs A.G Smyth, wife of the first Water Master. Her home was of tent construction where on rainy days she stayed in bed with an umbrella to keep dry. Much envied by other brides was Mrs. Virgo. Her home consisted of two iron rooms with a lean-to and was called a 'mansion'.
The settlement prospered as fruit trees began producing in the 1920s. New homes and stores were built and the town community grew. After some time it became evident that the allocated blocks were too small for growers to support themselves. Some settlers moved to Barmera, (the next soldier settlement to open in the Riverland) where larger blocks were being formed. The remaining settlers then acquired the vacated blocks to increase the size of their holdings.