2019 Murray River Giant Pumpkin Competition. Congratulations winners.
We had a great day at the Morgan Lion's Easter Bazaar this year. Though unfortunately our 5th and 6th prize categories had no entries and all major entries were smaller than last year. We had a great crowd who enjoyed seeing the pumpkins being lifted off the trailers and utes and then weighed for the Major Prize entries.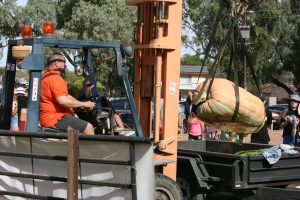 Many stayed for the presentations which were held after the Morgan Lion's Auction. Jason, our CCTA Chair, took all the entries home and collected the seeds for future competitions. The flesh of the pumpkins went to several CCTA volunteers for their life-stock (chickens, goats, etc).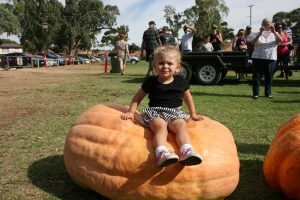 We would like to thank all our sponsors and the Morgan Lion's for hosting us this year. Congratulations, again, to all our winners. We hope to see you next year.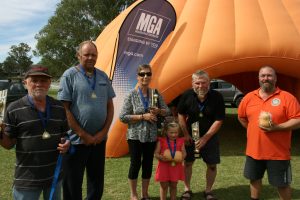 Giant Pumpkins
Name
Location
Weight (kg)
Sponsors
David Forbes
Cooltong
152.6
MGA Insurance
Cheryl Forbes
Renmark
109.2
5RM/93.1FM
Ian Atze
Waikerie
71.8
Terminus Hotel, Morgan
Eugene Wyld
Waikerie
62.2
Waikerie Honda

~ not awarded ~

Riverland West

Chamber of

Commerce

& Agri-Business

~ not awarded ~

Illalangi

& Agri-Business
Novelty Pumpkins
Category
Winner
Description
Sponsors
Mystery Weight (123kg)
Cheryl Forbes
109.2kg
Morgan Caltex Roadhouse
Ugliest Pumpkin
Eugene Wyld
–
Spook Hill Wines
Best Dressed Pumpkin
The Barty Family, Cadell
Minion
Rollbusch Quality Meats, Waikerie
Prettiest Pumpkin
Rachel Doering
Decorated (Aged 3)
Riverview Café, Morgan

& ALERT Riverland

Biggest Gourd
Cheryl Forbes
Zucchini
Thrifty Link, Morgan
Biggest Other Vegetable (of its kind)
David Forbes
Watermelon
Commercial Hotel, Morgan
For information on the 2020 Competition:
Contact : Jason Lukacs
email: cadellcommunity@gmail.com
Phone: 0484 767 236 • Facebook page
---
The Murray River Giant Pumpkin Competition has reached world-wide recognition with interest from across the globe and has previously been registered with the 'Great Pumpkin Commonwealth' accredited association.
Six years ago MGA Insurance Group, donated a prize for the grower of the heaviest pumpkin* to attend the Half Moon Bay Pumpkin and Art Festival near San Francisco which has driven this competition to a new level of appeal, creating many amateur growers across the Nation. There are 14 prizes in 12 categories from Prettiest Pumpkin, Ugliest Pumpkin to Largest Vegetable (of it's type), so dress up your Queensland Blue, Butternut, or Squash for the novelty section!
In 2011 Dale Oliver travelled the long distance from Byron Bay to deliver his pumpkin weighing in at an amazing 390kg and won first prize. His record has never been broken, perhaps this is the year to do it!
Don't miss the Easter Saturday event on the Morgan River Front, only two hours from Adelaide on the magnificent Murray River.
We would like to thank our prize sponsors: MGA Insurance Group; Riverland Broadcasters (5RM and Magic FM); Terminus Hotel Morgan; Waikerie Honda; Riverland West Chamber of Commerce (RWCC); Illilangi Gourmet Foods; Morgan's Caltex Roadhouse; Rollbusch Quality Meats; Spook Hill Wines; Riverview Cafe Morgan; ALERT Riverland; The Commercial Hotel Morgan; Morgan Thrifty-Link and Agri-Business Ramco.
*conditions apply